RAMAQUOIS IS THE BEST ALTERNATIVE TO SLEEP-AWAY CAMP
Girls entering 6th grade are called Collegians at Camp Ramaquois.  Each group of Collegians has three counselors.  A division leader oversees all of the Collegians groups.
All of our staff members receive extensive training through our University of Ramaquois program with an emphasis on integrating new campers into the group. Many new campers, of all ages, come to Ramaquois each year because of our unique facility, program and outstanding staff.
Collegians enjoy all of the benefits of Girls' Side. They participate in Girls' Side line-up, Song & Cheer and other favorites such as Ceramics, Skippy Ball and Ga-Ga!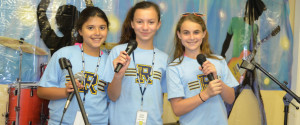 In the morning, Collegians will have Swim Instruction or another water activity. Each afternoon, they will have a free swim.  All of our Lake and water activities are strictly supervised by American Red Cross lifeguards. Collegians also enjoy Water Works, Bumper Boats and watercrafts on the Rama-Lake.
Our Girls' Side program provides campers with a mix of athletic and non-athletic activities. All of our Athletics are instruction based and focused on skill development. Our field specialists and athletic directors lead each activity and emphasize sportsmanship and effort. Collegians participate in an exciting multi-sport league called The Big 10 League!
The non-athletic activities are a mix of Crafts, Cultural and Adventure activities, including the Zip Line and much more.
Collegians have many new activities such as Woodworking, EndZone Ropes Course, DJ Karaoke and Pickle Ball.
Collegians can customize their program by selecting one activity per day. This "Option Program" provides an opportunity for campers to get more in-depth exposure to any activity that they choose. Campers are exposed to a variety of activities and are sure to try something new at camp!
Collegians can participate in our Adventure Trip Program.  6th graders can choose from several exciting day and overnight trips to destinations such as water parks, broadway shows, historical landmarks and other popular venues.  Our trip program is completely menu driven, and those campers who do not go on trips have a full camp day.
The regular camp program is supplemented by exciting divisional and all-camp Special Events such as Water Carnival, Land Carnival, Rama-Games and more!
Please fill out this form if you would like to Request Information.