Girls' Side, known as "The Spirit", is proud of its dedicated and caring Staff that encourages campers to set individual goals, increase their self-confidence and feel a true sense of accomplishment. Girls' Side has a deep rooted tradition of fostering special friendships and summer memories that last a lifetime.
Girls' Side is home to girls entering 2nd grade through 10th grade. Each age group is its own "division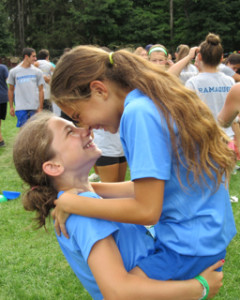 ".
As the campers get older, the Ramaquois program changes to accommodate the campers' new interests, skills and maturity level. Our Adventure Trip Program begins with the Teenas and adds more options as the campers get older.
Middies have two elective periods per week and Teenas on up have one elective period per day. All Girls' side campers participate in athletic leagues. 7th through 10th graders participate in SNAPS League.