WATER ACTIVITIES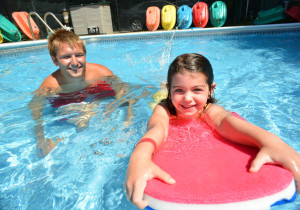 Whether it's instructional swim in one of our 9 heated pools, free swim, bumper boating, splashing in the Water Works Spray Park, kayaking, water biking, surfboarding, zip lining across the lake, paddle boating, or jumping off the Bongo into our 5 acre lake, campers are constantly under the watchful eyes of experienced instructors and lifeguards. The comprehensive guidelines of the American Red Cross and the American Camp Association safety program ensure lifetime skills are taught and put into practice at Ramaquois.
Our swim program is under the guidance and supervision of over 60 certified waterfront staff. Our program offers basic water safety skills, stroke development, and love for the water. Our aquatic staff is capable of designing specific programs for each of the age groups assigned to them. Specific attention is given to the needs and ability level of each camper.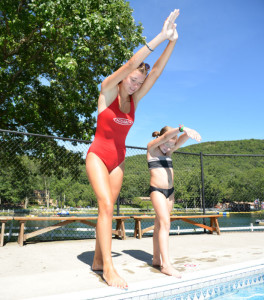 Our eight pools afford Ramaquois campers the ability to advance to more challenging swim levels. Our aquatic directors, continuously evaluate our campers progress, skills, and ability. This evaluation process ensures proper camper placement and appropriate swim levels.
Our lake staff keep a watchful eye as our Ramaquois campers enjoy their summer fun on the lake. Our lake resources include a "bongo" water trampoline, aqua glide, new bumper boats, new water bikes, paddle boats, fountain sprays, kayaks, bongo slide, and an iceberg.