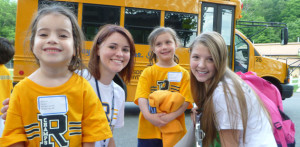 Camp Ramaquois is proud to be a Westchester County Day Camp!
Located just west of Westchester, NY in scenic Rockland County, Ramaquois campers hail from many parts of Westchester including Scarsdale, White Plains, Irvington, Tarrytown, Briarcliff Manor, Chappaqua and Pleasantville. Ramaquois offers the safest transportation program from Westchester to our summer day camp. An air-conditioned, late model, mini-bus will pick your child up in front of your home or apartment building and bring him or her there at the end of the day.
Camp Ramaquois is located 15 minutes from the Tappan Zee Bridge. We use the Palisades Parkway as our preferred route to camp. Ramaquois is located off of Exit 13 in Pomona, NY.
Our vans are driven by professional, certified, school bus drivers. Additionally, there is at least one Ramaquois bus counselor on the van. The bus counselor ensures that every child is seat-belted and engaged in an age-appropriate activity. At Ramaquois, we believe that the camp day begins when the camper steps onto the bus.
Please call the Ramaquois office at (845) 354-1600 so that we can personally discuss your transportation needs.