Jared Gelb and Phil Rainone – Directors
Phil began his journey at Ramaquois in 1996 as a counselor and has filled several administrative roles on his way to his current position. In addition to his responsibilities at camp he volunteers as a Standards Visitor for the American Camp Association. His undergraduate degree is in Recreation and Leisure from St. Thomas Aquinas College and he also holds a Master's of Science Degree in Health and Physical Education from Hofstra University. Phil and his wife, Melissa, are proud parents of two daughters, who both attend Ramaquois.
Jared has worked at Camp Ramaquois since 1986—he started as a group counselor and has gradually moved up to his current responsibilities. During the off-season, Jared is a co-director at the camp with specific responsibilities as the personnel director. During the summer months, Jared also serves as the director of Boys' Side.  Jared spent 20 years as a high school Social Studies teacher before joining Ramaquois full time.  He earned his undergraduate degree from Binghamton University, and he holds a master's degree in teaching from Boston University and a master's degree in educational leadership from the College of New Rochelle. Jared and his wife, Staci, are the proud parents of three children.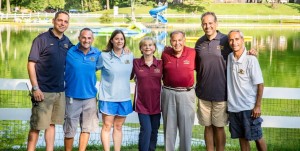 ---
 Arthur & Natalie Kessler – Executive Directors
Arthur and Natalie Kessler have spent their entire professional lives in camping. They have owned and directed both resident and day camps, developed unique day camp programs, spearheaded the formation of professional camping organizations, and worked hard to enhance the public's view of camping and the camping profession. Their significant impact on camping, and the standards of excellence that they have set merited them the prestigious recognition of "Legends of Camping" by the American Camp Association in 2005.
The Kesslers continue their work as the proud leaders of a group of dynamic professionals in camping at Camp Ramaquois. Their sound guidance, steady leadership and unwavering commitment guarantees the enduring traditions held so dear to all current and previous campers of Ramaquois.
---
Matthew Kaufman – Associate Director
Matt has spent every summer since 1984 at Ramaquois – 11 as a camper, 7 as a counselor, and the subsequent years in various administrative positions. He received undergraduate and graduate degrees in Operations Research and Industrial Engineering from Cornell University. Matt's passions at camp include program development, staff training and camper engagement. Outside of camp, Matt enjoys hiking, reading, web site development and spending time with his nieces and nephew.
---
Scott Kaplan – Assistant Director
Scott has spent every summer since 1988 at Ramaquois. Scott was a counselor, division leader for the 7 and then 8 year old boys, Director of Girls' Side and has settled into his current position as co-Program Director/Assistant Director. He received his undergraduate degree in Political Science from the University of Rochester. His graduate degrees in education and educational administration come from Iona College and Hunter College, respectively.  As for his personal life, Scott enjoys spending time with his two sons, Joshua and Dylan, who are both Ramaquois campers and his wife, Rachel.
---
Jann Reissman – Assistant Director
Jann Reissman began her camping career at the age of 4.  She attended day camps, sleep away camps, and sports camps.  After many years as a camper, Jann knew her true passion was working with children. Jann received her undergraduate degree from the University of Massachusetts at Amherst in Psychology and her graduate degree from Columbia University School of Social Work.  In her personal life, Jann enjoys being the mother to her young daughters, Brooke and Lexi, and spending time with her husband Marc.