Boys entering Kindergarten are called Dolphins at Camp Ramaquois.  Each group of Dolphins has approximately 14 campers with three of our warmest, most nurturing counselors.  A division leader oversees all of the Dolphin groups.
Dolphins will swim twice each day.  In the morning, they will have swim instruction, and in the afternoon they will have a free swim.  All of our lake and water activities are strictly supervised by American Red Cross lifeguards. Dolphins also enjoy Water Works, Jr. Bumper Boats and watercrafts on the Rama-Lake.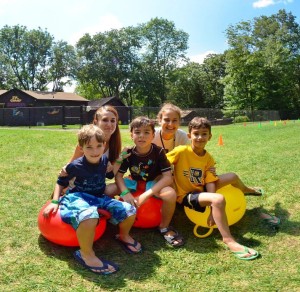 Our Junior Camp program provides campers with a mix of athletic and non-athletic activities. All of our athletics are instruction based and focused on skill development. Our field specialists and athletic directors lead each activity and assume no prior knowledge or experience with the sport. Dolphins participate in a non-competitive soccer league.
The non-athletic activities are a mix of crafts, cultural and adventure activities, including the zip line. The Dolphins have many craft activities in our Kidz Zone, which is located in the middle of Junior Camp. All of our campers are exposed to a variety of activities and are sure to try something new at camp!
The regular camp program is supplemented by exciting divisional and all-camp special events such as snow day, Rama-Games, magicians and more!
Dolphins eat lunch in our air-conditioned dining hall with the rest of Junior Camp.  Our food is brought to the table by waiters and waitresses, and served family style.  There is a wide variety of substitutes available every day, in addition to the regular hot meal.  We are a nut-aware camp.  We do not serve any nuts or peanut butter at Ramaquois.
The Dolphins are always energetic and enthusiastic!  We love watching them grow, play and make new friends!
Please fill out this form if you would like to Request Information.