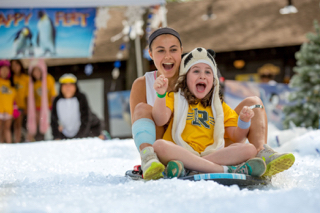 At Ramaquois your child will learn to make new friends, try new things, and have fun in a nurturing, creative environment.
Ramaquois' unique Junior Camp is designed specifically for the young child – girls and boys Pre-K (3 & 4 year olds), Kindergarten (5 year olds) and children entering 1st grade (6 year olds). Jr. campers are provided with a well-rounded, fun-filled summer experience.
Campers swim twice a day in heated pools designed to meet their ability. Certified Red Cross instructors supervise each pool. Campers receive two towels daily.
Jr. Campers are grouped according to their gender and school grade. Our groups are small and supervised by caring, nurturing and talented Counselors. Each group is assigned a "camp bunk" with cubbies and bathrooms.
Ramaquois' complete, separate junior facilities are age-appropriate and designed to meet the needs of our youngest campers. Our Jr. hockey rink, Jr. basketball court, Jr. tennis court, Kidz Zone, challenge course and Champs Stadium are "just the right size" for our Junior Campers. We offer a full program, including
Pillow Polo
Hockey
Low Challenge Course
Junior Tennis
Soccer
Basketball
Newcomb
T-Ball
Kickball
Wiffle Ball
Group Lead-up Games
Jr. Pool for Instruction & Bumper Boats
Skills & Drills Program
Gymnastics & Tumbling
Five and six year olds participate in non-competitive sports leagues. Six year olds are offered group choice one period per week.
The air-conditioned Jr. Kidz Zone center houses classes in arts & crafts, ceramics, woodcrafts and cooking. The cultural program includes nature and discovery, music/movement, drama, dance, gymnastics and "Kids Fit Program."
Carefully designed weekly Special Events include Carnival Day, magic shows, field days, sing-a-longs, pony rides, professional entertainers and our fabulous "Jr. Song Fest".
"I can not thank you enough, words could not express our joy and gratitude.  You and I have known one another going on our 3rd summer since Sydney started when she was three.  You and I became friendly right from the start when we had to arrange for her being the youngest and only harnessed child on the bus! You took care of everything she needed and all the arrangements and Sydney would eagerly jump into her seat with the harness that was waiting there for her each day the bus would show up!  For all that's gone on for us this past year and for all the hardship and changes we have faced in our life there couldn't be a more important time or more special gift than Ramaquois for our daughter.  Ramaquois is not just a camp to us but an extension of our family and has played such an important role in our's and Sydney's life.  Sydney is now five years old and Ramaquois has played such an important role in shaping her into the child she is today.  Ramaquois has had such an impact on who she is as a person.  It has taught her confidence, team building, goal setting and the social piece.  It has taught her about taking chances, trying new sports and to laugh and sing.  It has been everything and we see her development coming out after camp each summer.  Sydney is everything to us and Ramaquois is everything to her.  It really is.  Thank you for this beautiful gift you have given us.  We have every intention to return year after year!  Ramaquois is not only part  of our conversation and hearts in the summer but year round."
Danielle (Sydney's Mom)